How a niche
content aggregator scales and monetizes
with D2C streaming
Objective
BUILDING A DESTINATION FOR STRENGTH-BASED SPORTS
Core Sports is a leading global name in the world of competitive strength-based sports with a combination of owned-and-operated and licensed content. After beginning to expand their content catalogue through rights acquisitions and recognizing a growing interest in niche sports like arm wrestling, Core Sports wanted to launch a dedicated direct-to-consumer (D2C) service to become a global destination featuring the top athletes in strength-based sport. They needed an end-to-end partner who could fully build and scale a streaming platform to unlock the full value of their business model. 
Strategy & Solutions
FINDING THE RIGHT D2C BUSINESS MODEL
Core Sports partnered with Endeavor Streaming to launch CoreSports.tv in January 2021. To assess the scale of the D2C opportunity, Core Sports launched with both subscription and pay-per-view (PPV) offerings, quickly discovering immense success from PPV arm wrestling events like "King of the Table" — one of their marquee events today. The Endeavor Streaming Vesper Platform's flexible monetization tools allowed Core Sports to easily bundle discounted PPV packages as an effective user acquisition strategy to drive revenue amongst a globally distributed superfan audience.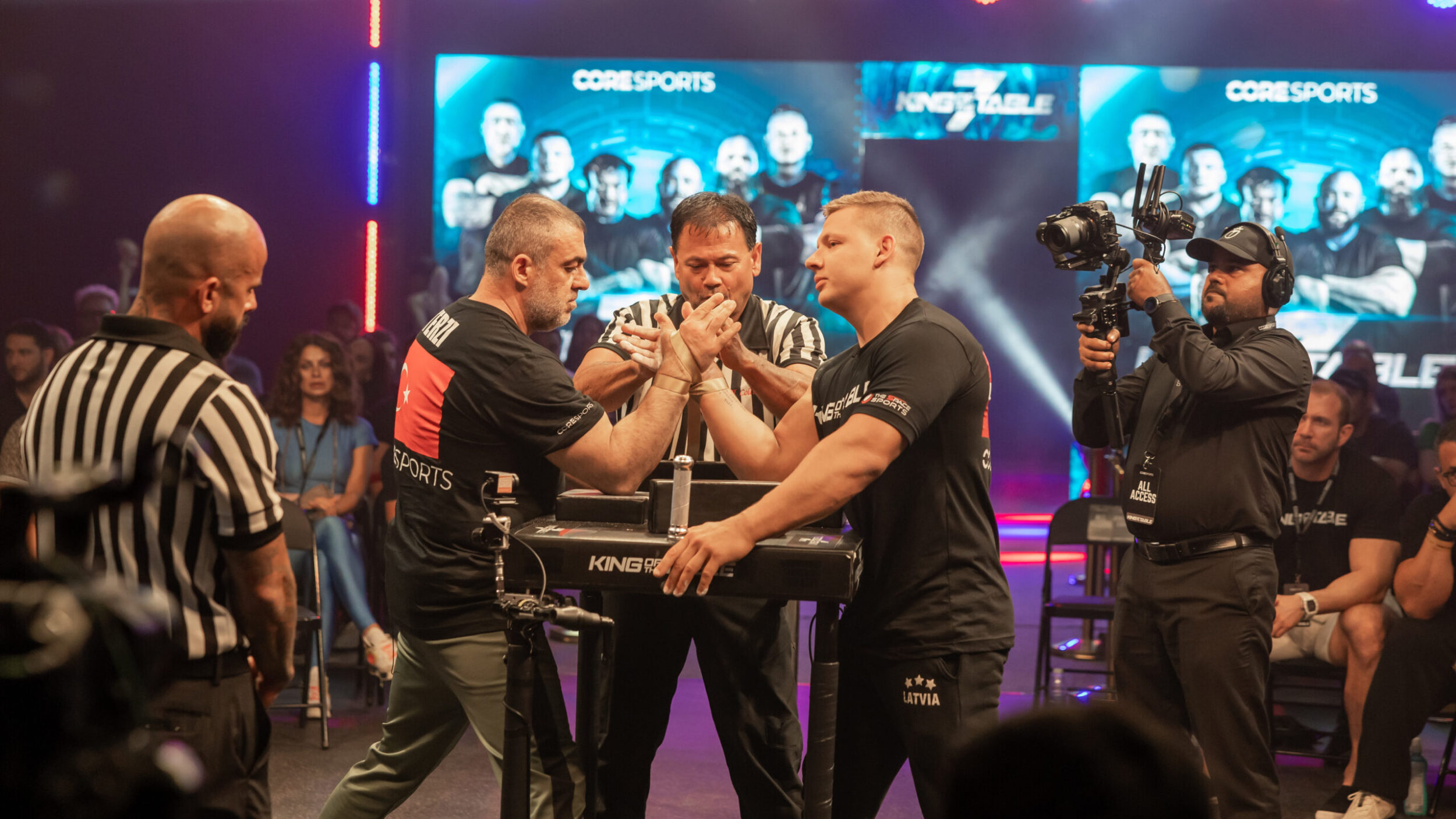 The success of the events enabled Core Sports to procure rights to more arm-wrestling and combat sports content, with guidance from Endeavor Streaming as a true end-to-end business partner. Along with advisory on product pricing and license management across CoreSports.tv's international markets, Endeavor Streaming provides live operational support for their steadily growing slate of live events– which ultimately led them to pivot to an exclusively PPV platform to capitalize on the model.
Due to the nature of premium live PPV events traditionally attracting higher levels of piracy attempts, Core Sports leverages Vesper's suite of stream security capabilities, including Digital Rights Management (DRM) and visual watermarking to prevent unauthorized content distribution. The Vesper Platform's powerful data visualization dashboards enabled Core Sports to analyze consumer purchase behavior and demand trends to inform their marketing efforts— successfully growing a loyal fanbase of arm-wrestling fans and expanding the popularity of the sport on a global level.  
Results
ACCELERATING CORESPORTS.TV GROWTH
Since the launch with Endeavor Streaming, Core Sports has seen incredible growth in their strategic content and business monetization tactics. The introduction of bundled pay-per-view packages resulted in a 34% increase in total purchases from 2021 to 2022, with total revenue increasing by 56%. The platform now carries over 15 live events annually, which helped garner record performance of over 611,000 total views in 2022. Year-to-date, Core Sports grew average revenue per user (ARPU) by 31% and reduced churn by 38% compared to the same time last year, illustrating their success in establishing a profitable third-party–driven business model and creating a global destination for niche and combat sports content.  
Conclusion
CREATING A PATH FOR SUSTAINED PROFITABILITY
By relying on Endeavor Streaming to handle the complexities of building and delivering a premium global streaming service, Core Sports are able to continuously expand and adapt their media strategy against their high-performing content. Looking ahead, the teams are exploring new monetization channels such as the introduction of advertising and e-commerce capabilities to Core Sports.tv. As the platform continues to gain popularity on a global scale, Core Sports and Endeavor Streaming are considering additional distribution channels such as expansion to new devices and free ad–supported television (FAST) channels to extend its reach to their growing consumer base.  

" It was paramount for us to not just find a technology vendor, but a true strategic streaming business partner who could help us elevate the Core Sports brand and grow CoreSports.tv into a profitable service. In just three years, Core Sports.tv has evolved from a start up to a rapidly growing organization delivering high-profile events to a global audience.
Want to learn more? Get in touch to discuss how Endeavor Streaming can bring your direct-to-consumer service to market.